by Jennie Clark
I know how disappointing it can be to spend the time and money setting everything up for your Magical Disney experience and to look at the weather report and all you see is rain. Now it is Florida and it often rains for an hour or so in the afternoon to cool things down and these tips works for then but I am talking rain. Our last trip it rained every day most of the day and night! Here are some things I learned…
1. Waterproof shoes! Leather and cloth are not your friend. My husband lost another pair of gym shoes to the rain this trip. We love Crocs! But there are great flip flops for your feet to walk in that can get wet. Water sneakers for the pool, I even saw new zip up soled rain ponchos for your feet.
2. Clothes. Wear things that dry quickly and are comfortable if they are damp. The newer quick dry items are great…think twice about jeans and heavy cottons.
3. Ponchos. Get good quality ones!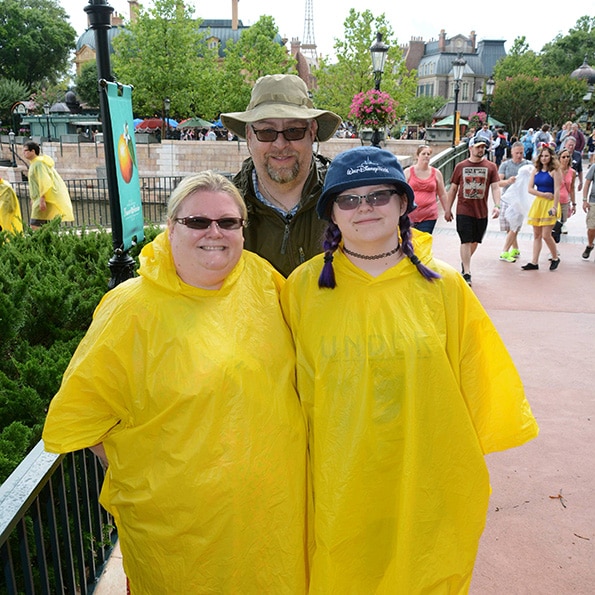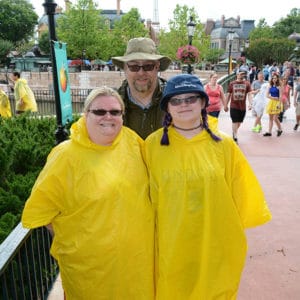 They make you take them off in lines so the dollars store ones which are great for the afternoon rain that you can just toss after one use is not going to work as well for this type of rain. We use ones we bought at Disney 20 years ago and they finally wore out. Rain jackets are an ok choice if they are big enough to cover your backpack purse phones wallets. The rain does not only get your top half.
4. ZIP LOCK BAGS! I always bring quart and gallon bags (I like the dollar store ones) this step needs some foresight. I packed a sweater or a hoodie with an extra pair of socks for each of us in our own gallon bag. The restaurants are cold and no one wants to get sick so to have something warm and dry is a nice extra. Plus, I get cold and use my sweater even when it is not raining. The quart bags are great for your phone. You are going to need throughout the day to look at fast passes and you can use your touch screen through them. The clear bags you can even take pictures through, maybe not the best, but at this point it is part of your story. This trip we needed to put everything that we wanted dry into bags. They are nice for security because they can see through them (time saver).
5. Bring cold medicine from home! Disney has people from all over the world visiting with different cultural standards, aka covering your mouth when you cough. The best you can buy is Advil and vapor rub there. "Be prepared" I sing in the best Lion King voice.
6. Look Outside the Parks.  If you were planning a day by the pool, Disney Springs has a lot to offer. There's an AMC movie theater, Bowling Alley, and fun shopping. Do not forget your hotel. They offer activities for children and adults to do, like movies and cookie decorating. Stop and look around. Do a spa day. Believe it or not Disney is not just parks.
7. Last, but most important …ATTITUDE!!!!! Go be ducks! Sure it is a bummer that the 7 Dwarfs Mine Train or Test Track is down due to the weather, but it is also beneficial as the park becomes less crowded as people leave for the day. You will get to see and do more. Be your own SUNSHINE!