What is Club 33?
Tucked away between the stores of New Orleans Square is Disneyland is an exclusive, private dining club not known by many. First opening in 1967, it was the only location inside Disneyland that served alcohol to its patrons. To keep the atmosphere family friendly, Walt kept the parks dry.
Where Did It Get Its Name?
Since the establishment would need a liquor license, it would need an address under California law. Club 33 gained its name simply from its address 33 Royal Street in New Orleans Square in Disneyland.  Nestled just above the Pirates of the Caribbean attraction and next to Walt's apartment, the club's unassuming entrance was known among the private club members as the "Green Door." This remained the entrance for many years until it was renovated in 2014, doubling its size, and the entrance was relocated to the Court of Angels nearby. The Green Door with ornate Club 33 sign remains, but if you knock, no one will answer.
It's Purpose
The Club was created after Walt's successful VIP lounges at the New York World's Fair. It was more suitable to meet with corporate sponsors in a private venue than at the former Red Wagon Inn restaurant.
Unfortunately Walt passed away 6 months before the Club opened. At that time, memberships were offered to a select few individuals as well.
Membership
I had the the luck to dine at Club 33 for my 40th birthday!  The original Club 33 at Disneyland was created by Walt, though he never had a chance to enjoy it himself. Today there are other Club 33's located in various Disney parks worldwide.  Members pay $33,000 to join and there is an annual fee of $15,000. The pricing keeps the Club very exclusive. You can only enter the Club as a member, or as a guest of a member.
The membership fee also includes annual park passes, 50 single day admission tickets, 5 private VIP tours per year, fast passes (Disney Genie+ passes), access to all of the exclusive lounges and restaurants, exclusive access to Club 33 merchandise and a tour of the Disneyland Resort Dream Suite.
Ready to sign up? It's not that easy… Membership is limited and it will take patience. In 2007 the wait list was so long that they would not add any more names on the list until 2012!  The wait list is an average 4 year wait.
Before You Arrive
I was lucky enough to be invited to join a member, and other guests, for my 40th birthday. I really must thank my dear friend Von Enselman who made it all happen for me. What a truly magical birthday gift!
This elegant experience does come with rules. 1) The dress code. As a fine dining establishment you could not expect to arrive in park wear to Club 33.  We enjoyed the parks during the day with our family and left the kids with a family friend while we dressed up for a night on the town.  I'm not going to lie, it was wonderful to see our group arrive at the gates of Disneyland dressed to the nines.  One of our guests were asked to wear a shawl when her dress (which was tasteful) was found a bit too revealing.  Dresses or slacks with a blouse for women and dress pants and collared shirts for men are the norm. 2) Photos. You may take photos but no video is allowed any more. And we were informed that we were not allowed to take photos in the restrooms!  I thought that was odd until I used the restroom and saw how gorgeous they were. I can see how people would be tempted to snap a pic there.
The Exterior
The balcony offers a lovely view of the bustling New Orleans Square below. Guests can peek out the window or step out onto the balcony for a lovely view of the street below and gorgeous views of Fantasmic. 
Since the renovation there is now a blue door for entry nestled in amongst the stores in New Orleans Square. You enter to a lobby desk and are checked in.
The Downstairs Lobby
Guests enter into the Court des Anges (Court of Angels), an open air courtyard, where they can say hello to their guests, enjoy a rest at tables in the outdoor courtyard and the sound of the fountain.
Guests then ascend the winding stairs adorned with two angels, to the upstairs lobby where they are greeted by a beautifully chandelier lighting the room filled with elegant touches and a beautiful harpsichord, and a turkey vulture. Yes, a vulture!

You may think this was a reject from the Enchanted Tiki Room. But this is Disneyland after all, and of course there's an animatronic vulture in the lobby. Before the remodel, this was known as the trophy room. The room was outfitted with various microphones and the vulture would respond to conversations of the guests. Although there are many rumors around this peering turkey, it was never used due to privacy concerns.

The harpsichord is a hand painted scene of New Orleans Harbor.
Le Salon Nouveau – The Lounge
A visit to Club 33 is an experience to be savored. We spent the entire evening here.  Our journey started with a visit to the the Le Salon Nouveau lounge. Greeted by live jazz music, an attentive waiter and a bar manual from "Hotel Marceline" (Marceline, Missouri is where Walt lived as a child), we enjoyed a great cocktail menu. A beautiful blue stained glass window was illuminated above the room filled with tables and cozy velvet lined booths tucked in among the walls. All very reminiscent of an evening New Orleans jazz club.  A great place for a relaxing drink to start the experience.
The Lift
After the renovation the beautiful elevator that used to take guests upstairs from the entry area was displayed on the lounge. It's absolutely beautiful. And of course there's a Walt story behind the elevator. When Walt and his wife Lillian, were on holiday in France, Walt saw a similar lift in French hotel. He offered to purchase the lift from the hotel but was declined. He set his Imagineers to get to work to create one themselves and they headed to the hotel to study the lift so they could replicate it for Club 33.
Le Grand Salon Restaurant
After our relaxing visit to the lounge. We were escorted into Le Grand Salon, the dining area. We had a large group dining with us tonight so we had a lovely table in the center of the room.  Nothing is rushed for this experience.  After settling in and enjoying our drinks and conversation, we were given our drink and dining menus for the evening.
The Meal
Dinner was nothing short of amazing.
Guests can choose to add on a seafood Course: Chilled Selection of Oysters, Poached Shrimp, Scallops, Abalone Ceviche, Whole Lobster Tail, King Crab Legs and Snow Crab Claws as well as a Signature Golden Osetra Caviar Course served with Crème Fraiche, Fingerling Potatoes and Fresh Lemon
Of course you can choose a Four, Five or Six Course wine pairing for the dinner as well.
First Course: Asparagus Dusted with Fennel Pollen, Leek Puree and Rose Blood Orange Conserve; Chilled Blue Crab Tian, Snow Crab Claw, Golden Beet Carpaccio and Dill Crème Fraiche; Filet Mignon Steak Tartare, Poached Quall Egg and Country Mustard; Tempura Fried Zucchini Blossom, Lemon Ricotta, Fava Bean Puree and Lemon Jam
Second Course: Potato Leek Broth and Rhubarb Grilled Chicken, Fava Beans and Asparagus; California Green Salad with Nasturtium, Avocado, Chevre Mousseline and Raspberry Vinaigrette; Little Gem Lettuce, Strawberry, Pork Rillettes, Country Bread and Buttermilk Orange Dressing
Third Couse: Sautéed Sustainable Fish of the Day with Nantucket Bay Scallop and Crayfish Etouffee; Skuna Bay Salmon a la Planche, French Green Lentils, Oyster Mushrooms and Bacon; Lobster Cavatelli, English Peas, Tomato Petals and Australian Black Truffle; Maple Leaf Duck  Breast Torchone with Kumquat Marmalade and Duck Mousse
Fourth Course: Colorado Lamb with Green Garlic, Morel Mushrooms and Syrah Sauce; Petit Angus Filet Mignon with Summer Squash Ratatouille and Sun Gold Tomato; Potato Parmesan Gnocchi, English Peas, Roasted Morel Mushrooms and Asparagus; Slow Braised Beef Short Rib with Poached Onions, Roasted Baby Carrots and Zinfandel Essence
Cheese Course: Finely Selected Cheeses with Apricot Mustardo, Pickled White Peach and Lemon-Poppy Seed Madeleine
Dessert Course: Salted Caramel Chocolate Tarte, Vanilla Chantilly Cream and Pistachio Crème Anglaise; Pecan Coffee Bundt Cake, Dark Chocolate, Pecan Brittle and Café au Lait Gelato; Citrus Celebration: Tart of Tangerine, Passion Fruit Meringue and Blood Orange Sorbet; California Cherry Pie, Honey Roasted Apricot and Cherry Pit Gelato
And of course, you are sent home with a selection of delicious candies to top it all off.
The End of a Magical Evening
After a truly spectacular experience with a wonderful group of people, we all left through the Court of Angels. The stars shone through the night sky above us in the open court yard. We said our fond farewells and my husband and I strolled over in our dressy clothes to take a ride on Space Mountain to top off the evening. We then headed back to rescue our babysitter who had 7 children in a hotel suite. She had the littlest sleeping on her, most of the older children were asleep, my youngest lay on the floor passed out from too much fun, and my oldest was of course awake. As a parent, I knew my kids were happy and well cared for while we had the chance to experience Club 33. Here's to Terrie Wepner for offering to stay behind while we enjoyed the night out as adults.
Enjoy a private walkthrough tour of the Original Club 33.
Ready to Travel or Just in the Gathering Information Stage?
Give us a call or email for a free, no-obligation quote today!  
All of our services are Absolutely Free to you!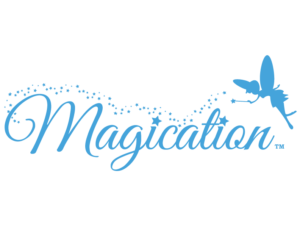 630-686-3610
allison@magication.net