Take a Photo and Video Tour of Space220
Located in Epcot, Walt Disney World
Getting In
After many months of trying and trying to get into Space220, our family was finally able to score a table at this fabulous restaurant.  This restaurant is notoriously difficult to get into.  So here's how to snag a seat in this exclusive, immersive dining experience.
Space220 is Disney's newest addition to the fabulous dining options in Epcot.  Dine in this upscale restaurant 220 miles above Epcot with an amazing view of the Earth from space.  The food is tremendous, the atmosphere truly unique and out of this world service.
Disney Dining Reservations: At the time I'm writing this article you can make dining reservations up to 60 days in advance through your Disney Genie (My Disney Experience) account.  Guests who are staying on property have an advantage in that they are able to make dining reservation for their entire stay.  If you are staying on property it may be easier to find reservations for days at the end of your stay. This is because other guests who are check in days before you have already been able to make reservations for their entire trip which will overlap with the days of your trip.
Guests who are staying off property will have to check dining reservations for each day of their trip at 60 days out.
Tip:  Working with a Magication Travel Agent will increase your chances of getting a dining reservation. When you book a travel package through Magication, our wonderful agents will make your dining reservations for you.  We will be up early exactly when your reservation window opens and do our best to get your reservations.
Tip:  Keep checking on dining availability before your trip.  People who have reservations will often change their plans and random reservation openening may open up.

Lounge Seating:  If you cannot snag the elusive dining reservation, you may stand in line outside the restaurant in Future World and wait for lounge seating.  There are only 10 seats available in the Lounge so the wait times can get long, depending on the crowd and time of day you get in line.
We were lucky. I have a family of 6 and we travel as a pack. I couldn't leave the kids behind and have this amazing experience while leaving my sci-fi fanatic kids behind. So we decided, after months of trying to get a reservation and a few attempt at waiting in line but with a 3+ hour wait we skipped, that this trip I was just going to bite the bullet and wait in line.  When I checked into the Lounge wait list with 6 guests we got the wide eyed look from the Cast Member, 6!  Yes I know the wait may be long, I'll wait.  Well within 15 minutes the CM sprinkled us with pixie dust and escorted us into the line with a beautiful table for 6.  I was elated.  I mean after months of being up early every day 60 days out from our travel days, to repeatedly searching multiple times a day, and having random seats open up during that time only to be snagged away before I could book the reservation, to multiple 3 hour plus wait times for a lounge seat (which would have been even more for our large part) we finally got in.  I won't deny a tear or two in our eyes and the amazing excitement and appreciation for that Cast Member!
Getting to Space220
So how do you get to Space220 which is, after all, 220 miles above the Earth? A Stellavator (space elevator) of course. The elevator track is tethered from Earth to the Centauri Space Station.  If you want the full immersive experience then don't watch the video below. But it is very cool to watch as you ascend above the Earth. Guests gather around the circular elevator pod and can watch below and above the Stellevator as you leave Epcot behind and dock at the Centauri Space Station.
Entering Space220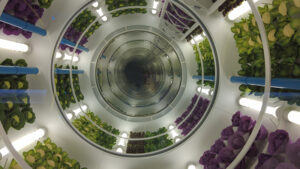 Once you step out of the space elevator, you immediately hear the background hum of the space station as you walk down the hall with an amazing view of the gravity growing chamber.  Watch the mesmerizing spinning chamber in our video below.
Once you reach the station's check in area, a Cast Member will grab your menus and escort you to your table.  Before you enter the restaurant you are surrounded by the station's walk through wine storage where each bottle of wine is stored in a pod like wine rack. (Sneak a peek in our video below).
The Restaurant
The moment you've been waiting for has arrived, you walk through the entrance to the absolutely incredible restaurant with an unbeatable view.  Your mind is overwhelmed with the view through the floor to ceiling windows lining one entire side of the restaurant.
There are 22 booths along the windows with amazing views with 50 more tables spread throughout the upper and lower floors of the restaurant.  However, at this time, Disney is limiting capacity at restaurants during the pandemic.
We were sat at a wonderful table on the upper floor. Honestly, there isn't a bad table in the house with a view like this.  Menus, like all menus throughout Disney World now, are available on your phone by scanning the QR code. Which means, it's the same menu that's online and on the app. The main seating is a prix fix menu (a multi course meal for a fixed price). Lunch seating is a lower priced than dinner seating.  Check out the current menu and pricing on Disney's site.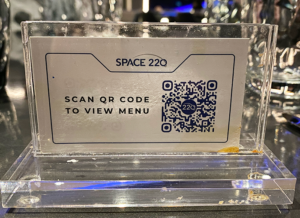 The Drinks
The menu definitely features some unique other-worldly drinks to fit with the theming. And of course we couldn't resist the kids big smiles as they asked for the rocket cups that the waitress brought to the table to show the kids.  But hey, we're in Disney, and have already bought into the thought that this will be a dining experience for our family.  So why not? (They were only $5 each!)
The Menu
There are so many amazing choices on the menu.  The best part of having a larger family is you get to try what everyone else orders, if you can get them to share.
Since we have a seafood allergy in our family, we were warned that the Caesar Salad is a bit heavy on the anchovy. So we chose to enjoy the Bluemoon Cauliflower and Space Greens. What a great decision that was!  The tempura fried cauliflower was absolutely amazing. The house made hot sauce it was served with was delicious but definitely had a kick to it.  The Space Greens bib lettuce salad was incredible and very generous. With the sharing already underway at our table we were wary to leave room for dinner and dessert.
We all really enjoyed our meals but the stand outs were the Flat Iron Steak, which we all agreed was super flavorful and amazingly tender.  The Baked Maccheroni was another front runner and enjoyed by all.  The burger was a good burger, but our 15 year old was coveting his dad's steak instead.  The kids enjoyed their meals and our 12 year old gobbled up his pasta and meatballs. The meatballs were the star of the show, so tender!
So Much to See!
The whole time you are looking at the menu, settling the kids in, ordering, enjoying your food, be prepared to be completely distracted by the view.  Yes, the view of Earth from a view from space is amazing, but there's so much more.  See the shuttle flying by to dock, a dog going for a space walk, and other Centauri Space Residents heading out for a little space recreation (and our favorite, the lightsaber battle).
Dessert
If you can try to, save room for a little something sweet at the end of your adventurous meal. Maybe take a stroll around the room and enjoy the view before you order.  The kids enjoyed the scoop of gelato, and Cosmic Cupcake, both of which were quite yummy.   My oldest son ordered the Carrot Cake which was good but not stellar. My husband ordered the Sticky Toffee Pudding Cake which each of us tried and all agreed that we did not like.  But my order of Chocolate Cheesecake was out of this world. A chocolate lover's delight. It looked amazing and each layer of this dessert did not disappoint!
Take In the View
Take some time to stroll around and see the amazing views.  I love that the view changes with the time of day.  A daytime view of Earth changes over to nighttime with lights aglow down below in both the restaurant and the Stellavator.
Don't Forget to Make a Pit Stop
Before you head back down the Stellavator, be sure to visit the restrooms.  in true Disney style, they did not forget to include the restrooms when designing Space220.
All in all, this was an amazing experience that our family truly enjoyed. The attention to detail and design intertwined with technology is truly done in classic Disney style.  I highly recommend Space220 to anyone looking for a unique dining experience at Disney World.